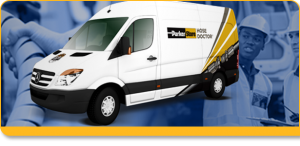 24 hour call centre on 0800 592543

Please contact the Grays sales office for details Telephone: 01708 686600
Hose Doctor Service is on call for all types of installations.
Available anytime, day or night, for any of your service and repair needs via our 24 hour call centre on 0800 592543
The Hose Doctor Service van is a mobile workshop that uses Parker Technology and carries a full range of Parker connectors, hoses and equipment up to 2″.
A qualified engineer specialised in hydraulics ensures that repairs are carried out rapidly and thoroughly.
Hydraulic hose repair and replacement has never been so easy with ParkerStore HOSE DOCTOR.
Limit the interruption of a leak or break and let us bring the solution to you with our Abbey Hose mobile, hose repair solution.
Trained professionals come to your site with fully stocked vans to identify, diagnose and replace hose assemblies or repair hydraulic and pneumatic systems.
HOSE DOCTOR has experience and expertise in a wide variety of hydraulic and pneumatic applications such as plant hire, car transporters, fork lift trucks, aerial lift, lift trucks, truck cranes, refuse trucks.
Our fast and professional service ensures that costly downtime caused by emergency repairs or planned maintenance is kept to a minimum.
HOSE DOCTOR benefits include:
– Trained technicians using only genuine Parker parts
– Contracts available for national fleets and coverage
– No hose assembly cleaning or pellet charges
– No consumables charges
We also offer an on-site container where high volumes of hose assemblies are required.
Available for outright purchase or monthly rental.
Please contact the Grays sales office for details Telephone: 01708 686600
24 hour call centre on 0800 592543